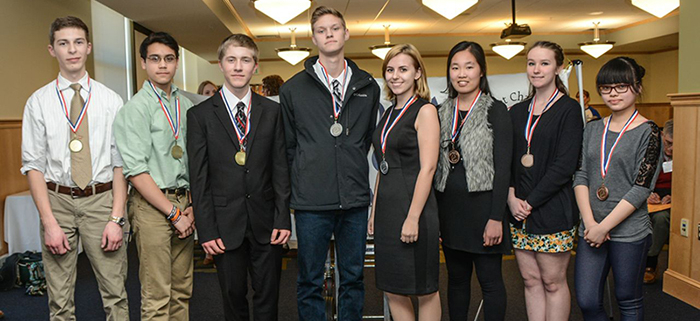 Competitive Awards As Factors in Admission
Your academic record is always the most important factor in admission to an Ivy League university or similarly elite institution. However, because there are so many applicants with excellent academic qualifications, you must also excel in the non-academic "soft" factors that are assessed by colleges in the admissions process. A prime example of a soft factor that demonstrates your high quality as an applicant is success in student competitions. 
The Common Application has a section that specifically asks you to list any awards, honors, or recognition that you've received during high school. Leaving it blank won't necessarily hurt your chances, but citing an award that you've won in a well-known competition makes you stand out. The more prestigious the competition and the higher your level of success — school, region, state, national, or international — the greater the impact on admissions officials will be.
There are a number of competitions for high school students that are widely  respected by admissions offices. They offer financial awards and, more importantly, enhance your appeal to top-tier colleges and universities. In addition, by competing, you'll develop abilities that colleges seek such as skills in research, critical thinking, communication, and, in many of the competitions, cooperation. In the words of Franklin Roosevelt, "Competition has been shown to be useful up to a certain point and no further, but cooperation, which is the thing we must strive for today, begins where competition leaves off."
About half of student competitions are in the humanities, including literature, writing, international affairs, and history, and half are in the STEM fields. STEM studies lead to many of the fastest-growing careers in the U.S., so STEM employers are always seeking additional qualified professionals. In addition, the STEM fields have a great impact on the environment, technological advance, government services, and the health of the economy. For these reasons, STEM-oriented businesses, non-profit organizations, and public agencies underwrite competitions to encourage students to major in these fields and go on to STEM careers. 
The list below highlights a range of competitions that ask you, as a student, to think critically and creatively about a problem or to demonstrate your unique voice, vision, or perspective.
1 – National History Day Contest. National History Day is a non-profit educational organization with a focus on historical research and interpretation. Its largest academic program is the National History Day Contest, in which more than half a million students participate each year. Students choose a historical topic related to the annual theme, and then conducting primary and secondary research on it. After analyzing sources, students draw a conclusion. All work submitted is in one of the following five formats: paper, exhibit, performance, website, or documentary. Student projects are entered into competitions in the spring. At the first two levels, local and regional, professionals in historical research and education evaluate the projects, with the best entries advancing to the national  competition in June at the University of Maryland at College Park.
2- AAN Neuroscience Research Prize. Students investigating problems concerning the brain or the nervous system are invited to compete for monetary prizes as well as paid trips to the AAN Annual Meeting to present their work.
3- Davidson Fellows. This prestigious scholarship annually awards up to $50,000 to students, 18 and under, who have submitted a significant piece of work in one of eight categories including engineering, mathematics, science, literature, music, technology, philosophy, and outside the box.
4- Conrad Spirit of Innovation Challenge. Participants work in teams of  students to develop solutions to some of the world's most complex problems. Finalist teams compete for seed funding grants, investment opportunities, patent support, business services, and college scholarships.
5- U.S. Presidential Scholars Program. This 55-year old program aims to recognize the nation's most accomplished graduating high school seniors. Over the years, the program has been extended to recognize students who excel in the visual, creative, and performing arts as well as in technical subject areas. Presidential Scholar awards are considered one of the nation's highest honors for high school students. All graduating high school seniors who are citizens of the United States or legal permanent residents, and have scored exceptionally well on either the SAT or the ACT, are considered for participation. If invited, candidates submit essays, self-assessments, and transcripts. They are evaluated on academic achievement, personal characteristics, leadership, service activities, and the quality of their submitted writing. In April, the Commission on Presidential Scholars selects 121 students as winners. 
6- ExploraVision.  Jointly sponsored by Toshiba and the National Science Teachers Association, ExploraVision encourages collaboration by considering only group projects. All participants win gifts and discounts and the top four teams receive $10,000 per student.
7- Google Science Fair. Beginning with online submissions, this competition invites young scientists from all over the world to compete for up to $50,000 in scholarships as well as a trip to the Galapagos Islands sponsored by National Geographic. Finalists are invited, all expenses paid, to Google headquarters to present their projects before expert judges.  
8- Scholastic Art & Writing Awards. This program awards scholarships to high school students in the U.S. in 29 categories such as architecture, sculpture, painting, photography, poetry, dramatic script, fashion, animation, and video games. The competition was founded as a small writing competition with the purpose of recognizing artistic and literary talent, but over time grew to include the current broad range of categories. Past winners include Andy Warhol, Sylvia Plath, Truman Capote, Stephen King, John Updike, Lena Dunham, and Joyce Carol Oates, among many others. The Scholastic Awards looks for work characterized by "originality, technical skill, and the emergence of a personal voice or vision". 
9- Intel International Science and Engineering Fair. Intel hosts what may be the world's largest international pre-college science competition, providing an annual contest for over 1,800 high school students from all over the world who compete for approximately $4 million in awards. Competition  culminates in the International Science and Engineering Fair, held annually in different cities around the U.S
10- International BioGENEius Challenge. This competition is designed to recognize outstanding research in biotechnology among high school students. Finalists showcase their research before a prestigious panel of biotech experts. Students have the opportunity to win substantial cash awards.
11- Microsoft Imagine Cup.  The Imagine Cup is a global competition for computer science students who team up to use their creativity, passion, and knowledge of digital technology to create applications and compete for cash awards, travel, and other prizes. 
12- MIT THINK Scholars Program. The THINK Scholars program is an initiative that promotes STEM subjects by supporting and funding projects developed by high school students. Finalists receive all-expenses paid trips to MIT to attend XFair (MIT's spring tech symposium) and winners receive $1,000 to build their projects. Scholarship prizes are also awarded.
13- National Junior Science and Humanities Symposium. Individual students compete for scholarships and recognition by presenting the results of their original research before a panel of judges and peers. Regional scholarships as well as eight national top awards of $12,000 are among the prizes awarded.  
14- Regeneron Science Talent Search. The Regeneron Science Talent Search invites the nation's high school scientists to present original research to nationally recognized professional scientists. Open only to high school seniors, 40 finalists are selected to come to Washington, DC, to compete for the top award of $250,000. 
15- International Public Policy Forum. This is an international contest open to teams from all high schools, which compete for awards and scholarships. The initial requirement is to submit a school's qualifying round essay. The top 64 teams are determined and begin a single-elimination, written debate tournament until the final eight teams are selected. Student expenses are paid for members of the eight teams that reach the finals in New York City. Teams then compete in oral debates in front of a panel of judges that includes experts in law, business, politics, debate, and academia.
16- First Tech Challenge. Open to students in grades 7-12, the First Tech Challenge is a competition in which teams comprised of at least 10 members design, build, program, and operate robots in a competition. The contest awards one top award and one finalist award, as well as several smaller awards for in such categories as motivation and inspiration. 
17- eCYBERMISSION. Sponsored by the U.S. Army, eCYBERMISSION is a STEM competition open to teams of students from grades 6-9 who compete for state, regional, and national awards. Teams propose a solution to a real world problem. First place awards are $5,000, and smaller awards are also granted.
18- Science Olympiad. One of the better known STEM competitions, Science Olympiad is a contest in which teams of 15 students compete in 23 events in various categories such as Anatomy and Physiology, Tower Building, Rocks and Minerals, and Forensics. 
IvySelect, a leading college admissions consulting firm, provides superior comprehensive, individualized counseling based on years of experience in guiding students to achieve their educational goals. The list of top-tier colleges and universities to which our students have been admitted includes Harvard, Princeton, Yale, Penn, Columbia, Brown, Dartmouth, Cornell, Stanford, Duke, MIT, Cal Tech, Oxford (U.K.), Chicago, Johns Hopkins, Northwestern, Georgetown, Vanderbilt, Rice, Washington University in St. Louis, Emory, Notre Dame, Wake Forest, USC, Berkeley, UCLA, NYU, Boston College, Michigan, Virginia, North Carolina, Texas, Wisconsin, Tulane, Boston University, University of Rochester, Amherst, Williams, Swarthmore, Wesleyan, Bowdoin, Middlebury, Haverford, Wellesley, Vassar, Barnard, Colgate, Hamilton, and many others.
https://ivyselect.com/wp-content/uploads/2019/11/ivyselect2.jpg
410
700
Michael Goran
https://ivyselect.com/wp-content/uploads/2013/04/testlogoivy-300x106.png
Michael Goran
2019-11-01 21:56:23
2019-11-11 22:54:05
Competitive Awards As Factors in Admission